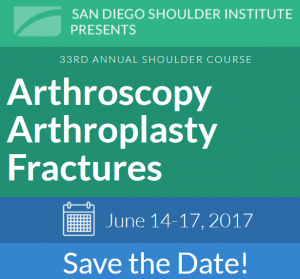 Our very own Dr. J.P. Warner will be Co-Chairing the San Diego Shoulder course this year.  Lets have a great New England showing out on the West Coast!
Read More>>

2018 ANNUAL MEETING FEBRUARY 9-10, 2018
Invited Guest Speakers Joe Iannotti M.D. Anthony Miniaci M.D. Joaquin Sanchez-Sotelo, M.D., Ph.D. Markus Schiebel, M.D.
Checkout the pics from previous meetings.
Read More>>

Meeting History
2017   I   2016  I  2015   I   2014   I   2013   I    2012    I   2011   I   2010   I   2009     I     2008      I     2007      I     2006      I     2005      I     2004
NESES 2017 February 10
Invited Guest
Dr. Daniel Mole
Dr. George Athwal
Dr. Greg Nicholson
114 Registered Attendees

NESES 2015  February 6 and 7
Invited Guests
Dr. Mark Frankle
Dr. Mark Cohen
Dr. Ettore Taverna

NESES 2014  February 7 and 8
NESES 2013  February 8 and 9
NESES Invited Elbow Lecture – Bernie Morrey
NESES Invited European Shoulder Lecture Pascal Boileau
101 Attendees:  81 MDs and 20 others
NESES 2012  January 27th and 28th
Invited Shoulder lecture – Dr. Mathew Proventure
Invited Elbow Lecture – Dr. Dean Sotereanos
NESES invited Asian Shoulder Lecture Dr. Hiroyuki Sugaya –
73 Attendees:  61 MDs and 12 others
NESES 2011 January 28 and 29
NESES Invited Lecture – Dr.  Paul Harrington – Health Care Delivery in New England
NESES Invited Elbow Lecture – Dr. Hill Hastings
NESES Invited European Shoulder Lecure – Dr. Ralf Hertel
77 Attendees:  67 MDs 10 others
NESES 2010 February 12 and 13
NESES Invited Lecture-Jonathan Ticker
NESES Invited Elbow Lecture-Dr Michael Mckee
NESES Invited European Shoulder Lecture-Dr Andreas Imhoff
82 Attendees:  60 MDs and 22 others
NESES 2009 Feb 6-8
NESES invited Presidential Should and Elbow Society address – Dr. Evan Flatow
NESES invited Elbow lecture – Dr. Robert Hotchkiss
NESES invited history lecture: history of the Journal of Shoulder and Elbow Surgery – Dr. William Mallon
NESES invited European Shoulder lecture – Dr. Giuseppe Porcellini
58 attendees:  49 MDs and 9 others
2008
2007
2006
Download Agenda

2005
Download Agenda

2004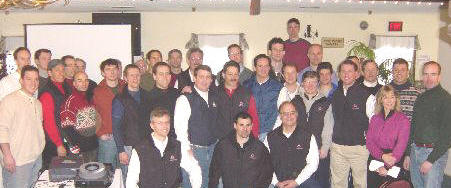 1st Annual Meeting a Huge Success!
2ND Meeting February 4-6 at Jay Peak Resort — Sign-Up Now!
Our first meeting was held at Jay Peak Resort in Jay Vermont February 6th through the 8th. It was attended by nearly 40 surgeons and more than 20 vendors and affiliated health professionals. In keeping with our goals to make the NESES a great way for everyone interested in shoulder and elbow surgery to share ideas and techniques but not take anymore of our precious time away from our families, over 60 family members came along for the weekend as well. While we talked about rotator cuffs and elbow fractures, they were getting massages, watching magic shows, and getting a few extra hours in on the slopes.
In the coming weeks, all of the material presented by our faculty will be available for review right here on our website. Because we have limited webspace, we may have to stagger the presentation of the material. But rest assured, you will be able to see all of it eventually.
To register for our next meeting, visit the Registration page and fill in your information.