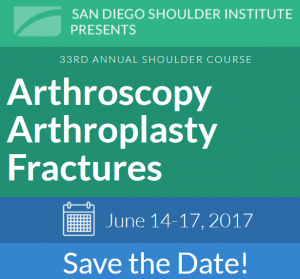 Our very own Dr. J.P. Warner will be Co-Chairing the San Diego Shoulder course this year.  Lets have a great New England showing out on the West Coast!
Read More>>

2018 ANNUAL MEETING FEBRUARY 9-10, 2018
Invited Guest Speakers Joe Iannotti M.D. Anthony Miniaci M.D. Joaquin Sanchez-Sotelo, M.D., Ph.D. Markus Schiebel, M.D.
Checkout the pics from previous meetings.
Read More>>

Register
If you are already a member of the society and are also located on our Member Map, you can skip this form and simply register for the conference by clicking here.  This link will open in a new window and will leave our website.
Become A Member & Attend The Conference
Please enter your information below to become a member of the society.
*You will be provided a new window upon completion of this form to complete your conference registration information.  You will be leaving the NESES.COM website temporarily and asked to enter your demographic information again.
*By clicking this button, you will be taken to the Event Registration form and off of the NESES.COM website.