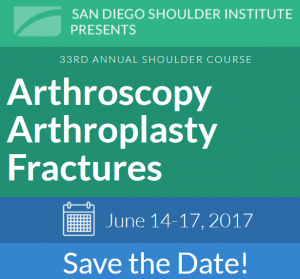 Our very own Dr. J.P. Warner will be Co-Chairing the San Diego Shoulder course this year.  Lets have a great New England showing out on the West Coast!
Read More>>

2018 ANNUAL MEETING FEBRUARY 9-10, 2018
Invited Guest Speakers Joe Iannotti M.D. Anthony Miniaci M.D. Joaquin Sanchez-Sotelo, M.D., Ph.D. Markus Schiebel, M.D.
Checkout the pics from previous meetings.
Read More>>

Sponsored Meetings
22nd Annual Evaluation and Management of the Injured Athete
Presented by Coastal Orthopedics and UCONN Health Center
August 4-8, 2014
Martha's Vineyard, MA
Brochure:  Evaluation and Treatment of the Injured Athlete Program
Visit www.sportsmedicine2014.com for more information.
Baseball Injuries to the Shoulder and Elbow
Little League to Major League
May 19, 2012 Cooperstown, New York Home of the National Baseball Hall of Fame
Presented by Bassett Healthcare Network
Guest Speaker Tommy John
Program Committe Chairpersons
Tally Lasiter, Jr, MD, MHA
Jocelyn Wittstein, MD
Download the PDF Registration Form!
8 CME Credits
Dinner and Private Tour at the National Baseball Hall of Fame